Annual Halloween Zombie Prom!
October 31, 2019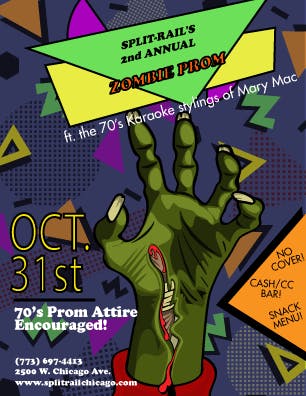 It's time again for our annual Halloween Zombie Prom! Our theme this year is 70s, and we'll be pulling out all the stops. All costumes are welcome, from Zombie to Prom Queen Being Chased by Zombie (or really anything you feel like)!
We'll be drinking that party prom kool-aid all night long, and kicking out tunes on karaoke to keep the zombies at bay. We'll have Jell-O shots, spiked punch, and more!
No cover, and no reservation necessary- just bring your bad self and your great costume! Be there or be square..